Hosting clients: we just made your WordPress dashboard neat, clean and helpful
We have customized the backend WordPress dashboard to include some helpful information, Jollity news, and important rules for things you do on your website every day, such as reminders on image sizing for the web. We also added in a few warnings about adding plugins to your site since those tend to be the source of many issues we've noticed over time. Here are some of the inside tips that every WordPress website marketer should know to keep your site runnning fast and error-free. Hosting clients, you can now find these right on your WordPress dashboard: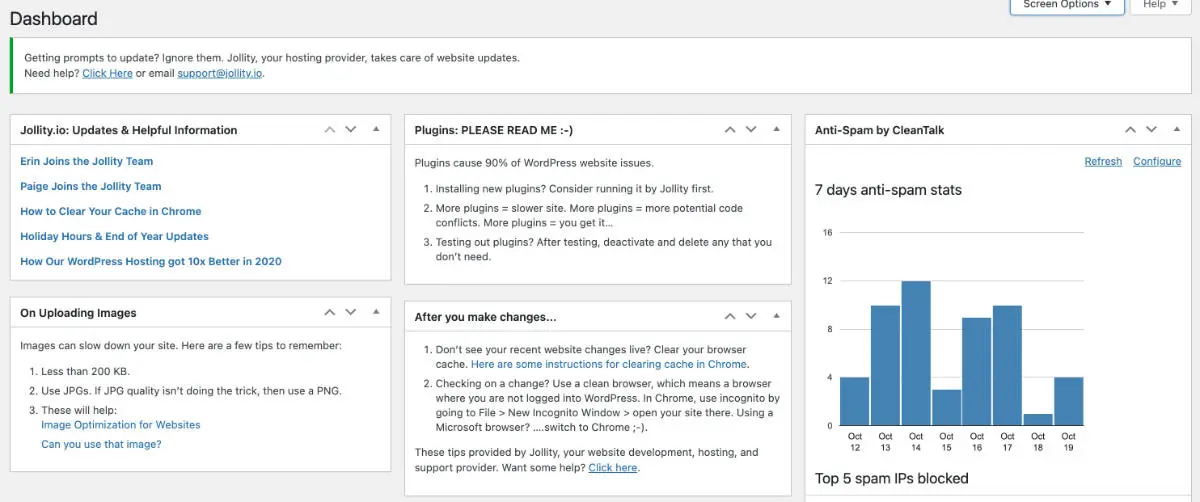 Plugins: Please Read Me 🙂
Plugins cause 90% of WordPress website issues.
Installing new plugins? Consider running it by Jollity first.
More plugins = slower site. More plugins = more potential code conflicts. More plugins = you get it…
Testing out plugins? After testing, deactivate and delete any that you don't need.
On Uploading Images
Images can slow down your site. Here are a few tips to remember:
Less than 200 KB.
Use JPGs. If JPG quality isn't doing the trick, then use a PNG.
These will help:
Image Optimization for Websites
Can you use that image?
After you make website changes
Don't see your recent website changes live? Clear your browser cache. Here are some instructions for clearing cache in Chrome.
Checking on a change? Use a clean browser, which means a browser where you are not logged into WordPress. In Chrome, use incognito by going to File > New Incognito Window > open your site there. Using a Microsoft browser? ….switch to Chrome ;-).
These tips provided by Jollity, your website development, hosting, and support provider. Want some help? Visit our website support page anytime to open a ticket (or send an email, as most of you do!)
Wait, Who is Jollity?
We are here for you! We keep your website up and running, healthy and secure so you can focus on your business. Learn more about Jollity:
Marketers Who Code
Jollity is not your average WordPress agency! What makes us different? Glad you asked! 🙂 We offer hosting and support packages to help you keep your website running and updated at all times, and we spend time reviewing your website and testing your lead forms to ensure that things are as they should be. Yes, actual real humans are looking at your site and testing your forms! We also offer amazing custom web design and development.
Supporting Small Businesses
Some of our clients prefer to update their own website content and publish blogs. We love to support you in this effort as well! It's your website and you should have full control of it. It is our goal to make your WordPress experience as user friendly and pleasant as possible.