Where to communicate your business's changes
Whether it's reduced hours, special hours for risk groups, a switch to online-only customer service, or a complete temporary closure, here is a checklist for where and how to update your customers. It's important to inform all of your stakeholders - the public, your existing customers, and your potential new customers.
1) Update the website contact page and footer
Some businesses also put hours in the footer of their site. Make sure you catch all possible online locations and add a temporary closure text notice next to the hours!
2) Add a website banner or pop-up notification
Create a banner notification that lets everyone know your doors are closed with your expected open date (which you can keep updating as things change).
Provide an email sign-up list in the banner (see #3) that allows your website visitors to elect to be notified via email when you re-open.

3) Offer to update visitors via email
Provide an email sign-up list in the banner (see #2) that allows your website visitors to elect to be notified via email when you re-open.
4) Update your Google My Business listing hours
For many such as restaurants and retail, this is more important than your website. The hours provided in your Google My Business listing show up in Google searches AND are used by Google Maps. If reducing hours, update the hours on the Google My Business listing. If closing completely, you have a few options and need to be VERY CAREFUL which you pursue!
IMPORTANT NOTE: Google has recently launched a "temporarily closed due to COVID19" feature. We have seen businesses reporting issues with using this feature, including not being able to receive reviews, having to contact support and not getting a reply when needing to remove the notice, and listings are being REMOVED from Google Maps (local) search results entirely. YIKES! One workaround to this is to use Google's "holiday hours" feature. You'll need to maintain it more often, but it appears to be a safer bet at this time.
If still serving customers online (such as a restaurant with take out or an insurance agency providing customer service via phone/email), it may be worth considering keeping your hours listed as open, then using Google's "post an update" feature to post your online-only status.
5) Post an update to your Google My Business page
Google has an option to create an update post. Use it! From your Google My Business dashboard, navigate to "Posts" then "Post update". See screenshot below. Post your reduced hours, closure, or alternative means to for customers to get in touch as needed.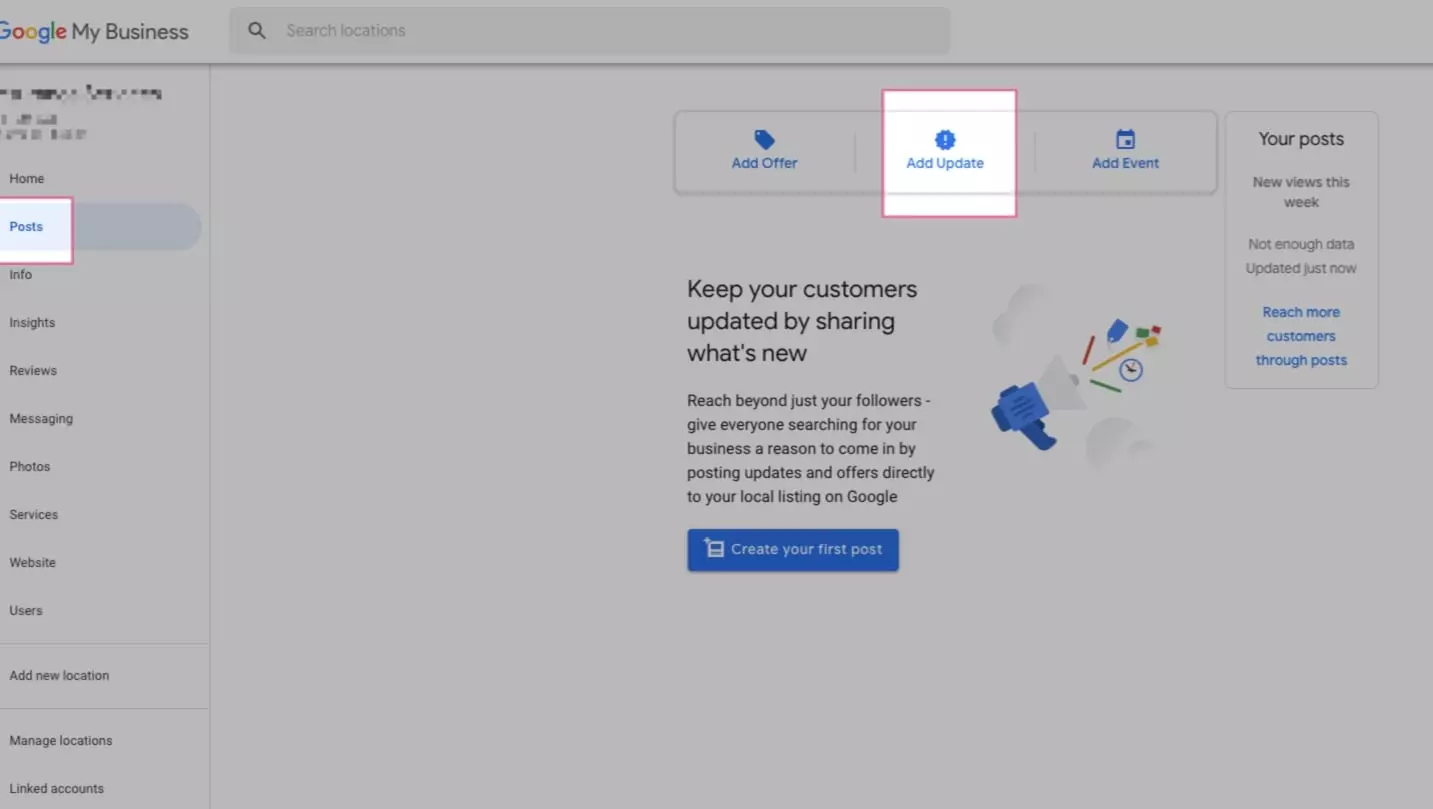 6) Post an update to your social media channels
Usually, the biggest are Facebook and Twitter, but post an update to any social media channels that you regularly use. If you have written a blog post or put up a website page with more details relevant to your stakeholders, link to it in your social media post.
7) Put a sign on your door
Don't forget your storefront! Put a sign on the door. Be humble, apologize that they've come all this way only to see closed doors, list the reason as being due to city mandate (or whatever level order applies to you) and refer them to your website for more details. Provide contact information if applicable.
NOTE FOR RESTAURANTS: Open for takeout/delivery? Tape your take-out menu to the door! We walked through our small town recently, and everyone provided a phone number for takeout, but many small restaurants do not have current menus on their websites. Some don't have a website at all. How do we know what to order? Or for better results, offer to email the take-out menu as a PDF if you can't get it up on a website page.