In your outreach email, include specific dates and times. Give them at least 3 options on at least 2 different days and no more than 5 total options (avoid decision paralysis, it's a thing). Convert time options to the CLIENT's time zone. This isn't about you, it's about the client, remember? Make sure to mention the time zone you quoted in. The easier you make it for them, the faster and easier it will be to schedule.

Send them a calend
ar invite! ALWAYS! The calendar invite should have:
Descriptive concise title - most people manage their calendars from their smartphone, so keep it short.
Using a conference line? Include the link in the "location" section of the conference. Also include it AGAIN in the description because some calendar apps don't play nicely with others and will drop some of the details - sometimes the client loses the location, sometimes the description. Include it in both to be safe.
Is the conference line ok to use on the go or does it require you to be on your desktop? For example, if you're doing a presentation with a visual and sending a conference link with screen sharing, TELL THEM it's best viewed from their computer if possible.
If you only need to talk with audio, tell them that the conference line can be clicked from their mobile or desktop.
Repeat conference link/instructions in the description section.
(optional) Concise summary (bullets are good!) of the topic(s) to cover

After sending the calendar invite with the conference line details included, send them a confirmation email letting them know that you've sent a calendar invite with the conference line link in the invite's details. MixMax does this automatically for you, but I still send a separate one from my email the first time I interact with a client.
5-10 minutes prior to the start of the scheduled call, send the client a brief 1-sentence email with the conference line link included for their convenience. That increases the chances that they'll remember the call (everyone is more on top of their email than their calendars, go figure).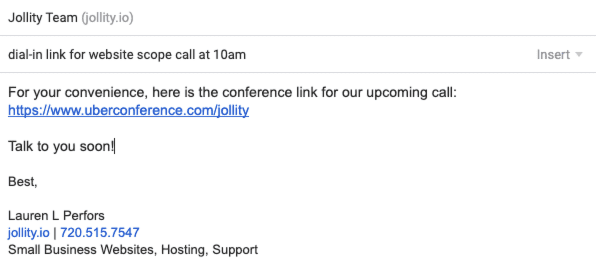 If your conference line link includes a long, complicated dial-in and bajillion codes to punch in, get a new conferencing company. It does not need to be that hard. Why make it such a pain when so many conferencing providers make it quick and easy? A simple hyperlink should be all it takes. UberConference, for example, lets you provide 1 hyperlink with everything the client and you need to connect. Once clicked, it gives you the option to have the line call you, which is excellent for clients on the go.
Scheduling calendar tools are super cool, but don't pick ones that make it harder for your client to schedule. MixMax, for example, saves back-and-forth for both you and the client without making the client fill out a bunch of information you already know about them - their name and email address, call duration (YOU are determining duration), and some even mak the client put in the topic. That's annoying and a waste of time, and it makes the scheduling all about simplification for you while adding complication for the client. When there are options that save you both time, don't waste your clients time. The invite should come from your email address. Don't use a calendar scheduling tool that sends the invite from an arbitrary email unfamiliar to either of you.
It can also be helpful, especially with clients who have trouble staying on task (or if you have trouble) to put a summary of the call's topics or the purpose of the call in the calendar invite description. Not necessary, but helpful!
Here is an example of a well-written meeting request email:
Save $25 when you sign up for MixMax here: http://ssqt.co/mQfAGaC
*I have no affiliation with MixMax, except as a customer.